Last updated on August 8th, 2023

Come Thou Fount of Every Blessing is a popular hymn written by Robert Robertson and altered by Martin Madan to the tune Nettleton. In this post, we cover the guitar chords, sheet music for the melody including tabs, and also a finger-style guitar arrangement. Let's get started.

How to read the guitar chord charts
To clarify how to read the chord charts in the next section, the top horizontal line represents the high E string and the bottom horizontal line represents the low E string. The vertical lines separate each fret. The numbers in the blue dots tell you which fingers to use on the fretting hand. 
For example, on the G Major chord, you use the:
2nd finger on the 6th string, 3rd fret
1st finger on the 5th string, 2nd fret
3rd finger on the 2nd string, 3rd fret
4th finger on the 1st string, 3rd fret
Circles represent open strings
On some other chords, X means to avoid the string
You can check this link for more on how to read guitar notation symbols.

Come Thou Fount guitar chords
The chords you can use for this song are G Major, D Major, C Major, and E minor. You can click on the chords with links to learn different ways of playing that chord.
Try the following chords one at a time until you feel comfortable switching between them. These chords will be written above the melody in the next section.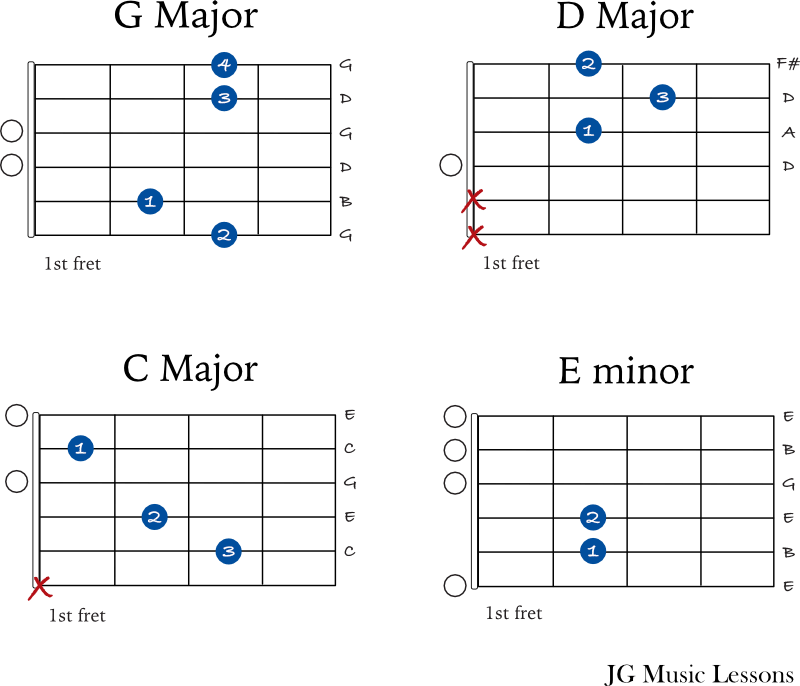 Here are some other resources on chords:
Come Thou Fount guitar tabs
For the sheet music below, keep in mind that the chords and melody are meant to be played as separate parts. We'll look at how to connect these parts later in the arrangement section of this post.
The numbers next to some notes on the top staff indicate which fingers to use on the fretting hand.
When playing the chords part, continue playing the same chord when switching to a measure that doesn't show one. You can refer to this simple guide to understanding music symbols if needed.
By the way, you can get all the PDF's of this post below.
Come Thou Fount Lyrics
Verse 1:
Come, thou Fount of every blessing;
tune my heart to sing thy grace;
streams of mercy, never ceasing,
call for songs of loudest praise.
Teach me some melodious sonnet,
sung by flaming tongues above;
praise the mount! I'm fixed upon it,
mount of God's unchanging love!
Verse 2:
Here I raise my Ebenezer;
hither by thy help I'm come;
and I hope, by thy good pleasure,
safely to arrive at home.
Jesus sought me when a stranger,
wandering from the fold of God;
he, to rescue me from danger,
interposed his precious blood.
Verse 3:
O to grace how great a debtor
daily I'm constrained to be!
Let that grace now, like a fetter,
bind my wandering heart to thee.
Prone to wander, Lord, I feel it,
prone to leave the God I love;
here's my heart; O take and seal it;
seal it for thy courts above.
Reference: Come, Thou Fount of Every Blessing. hymnary.org

Come Thou Fount guitar arrangement
In this section, we are essentially connecting the melody and chords together using a finger picking method of playing. If needed, check out this post to learn how to finger pick on guitar.
If you like this style of playing, you can check out this post to learn how to connect a melody and chords on guitar.
Get the free guitar practice guide here!
Want to learn more songs? Check out the sheet music with guitar tabs resource on this site.
All the best,
JG Music Lessons
This page includes some Amazon affiliate links to products I've used and recommend. This means I earn a commission if you click the link and purchase the item, at no additional cost to you!